Who are you?
It is said you have a reign...
You order a clean up fresh it in red paint.
A cried, a murmur heard in the distance.
Do you have feelings?
The marching passes by, but doesn't play..
One, two, three… that's not it…
It passes by a river of pain
The marching of sorrow…
How many will it be today?
And... How many will be caught tomorrow by the cruel destiny?…
You announce departure without arrival...
Inexistent escape... in an alley of fear.
Fight the enemy! The only escape!
Has been heard from one point to the other… What a resolution!
Who is the enemy?
Hearts of coal...
Thoughts of One... but you are more than one.
Your reign has experts and magicians…
Under veils they hide… Wash their hands
Forgetting the stink ness of the impose law.
Oh! Heart of coal...
Your dark soul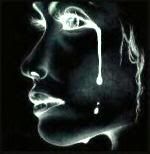 Do you have forgiveness?
Have you heard the scream, the boy's cried in your dream?
Grievance without mercy...forgotten… by revenge,
It was only One…Now they are many.
Empty brain, wrong choice day.
Innocents against innocents sway
Where does the reason and communion stand?
Isn't this revenge?
I saw you cry...do you want my pity…
I won't invite you to my fairy story
Heart of coal...
Hard to scour…
On the final day I will feel sorrow.
Translated from the poem ( Coração de Carvão)By Cina